It's been a while since we were able to highlight developments in our local beer scene. Thank goodness the long wait is over with the opening of Alvarado Street Brewery & Grill in Old Monterey.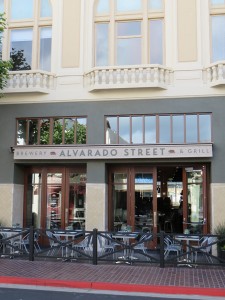 Right up the street from Peter B's Brewpub, Alvarado Street Brewery is a great addition to the Monterey Peninsula beer scene. Located in the renovated Regency Theater building, it also includes a small outdoor seating area with a great view of all the action on Alvarado Street. Inside, the marble counters and long, narrow shape give the place a sleek fancy feel, but don't let that fool you. Alvarado Street is a comfortable and casual brewpub with an exciting menu and awesome beers!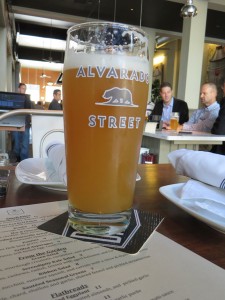 Head Brewer, JC Hill, stays very busy, with an average of 8 different house beers on at any given time. And I do mean different. JC has already introduced dozens of beers since the place opened in May. The IPAs have, of course, been a big hit with the likes of Minesweeper, a dank brew made with Citra and Chinook hops (7.2% ABV) and Duane's World, a 7.5% American IPA with Nelson and Amarillo hops, leading the way.
But while JC definitely knows his way around the hops, that's not all he has to offer. A variety of Belgian-style beers have rotated through, including the Bixby Belgian Blonde (5%), Alvarado Street Table Beer (3.9% Belgian-style tafelbier), Grains of Wrath (6.8% Belgian Farmhouse) and Doc Brown (5.8% American Brown brewed with Belgian yeast).
One of the things I enjoy most about Alvarado Street is that there is something for everyone. The beer list, which also includes guest taps and bottles, is always varied with everything from IPAs for the Hopheads, low alcohol beers for those taking it easy, and German-, Belgian-, and English-style beers for a more international flare.
The food is also fantastic, ranging from small bites and fresh salads to flatbreads and larger dishes. I especially love the Mac-n-Cheese with white cheddar, brie, broccolini, and leeks (especially when I remember to ask for the addition of bacon!). The Artisan Cheese and Salumi plate also offers a substantial portion suitable to share before a main course. The flatbreads are tasty, with the Duck Ham (pineapple, gruyere, pickled chili and hoisin sauce) being a house favorite. Chris and I like the Butcher's Bacon & Egg with a nice blend of cheeses, a Flander's Red Ale tomato sauce and a fried egg on top. Admittedly, I have never had one of the larger plates, choosing instead to create a full meal from the small bites and salads. However, the desserts cannot be missed. The fresh and fluffy Beignets are terrific and be sure to ask for a spoon to finish off the bitter chocolate ale sauce.
Be forewarned, Alvarado Street Brewery & Grill's reputation is growing and it is usually quite busy. With a knowledgeable and friendly staff, the bar is always a good option. Otherwise, be patient. It is well worth the wait. It can also be a bit loud in there, making it the perfect spot for socializing with friends and watching the game with fellow sports enthusiasts.
With the addition of Alvarado Street, I guess Chris and I can no longer call our home a beer backwater. Welcome to Monterey, the new California beer destination.