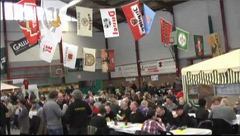 "2010 Kerstbierfestival" is the latest episode of One Pint at a Time.
Due to time constraints, the last beergeek.TV episode, Euro Christmas 2010 Part II, used only a part of the footage shot at the Kerstbierfestival. This episode is an extended look at one of our favorite beer festivals.
In an era where beer festivals are becoming more and more tests of strength and fortitude, the Kerstbierfestival is a breath of fresh air. When I tell people about the festival, the first thing I say is that you can use your "inside voice" as there is no loud din drowning out conversation. Long lines to get the latest hip beer don't exist. In fact, there are no beer lines to get some of the best, most unique or rarest beers in the world. Truly, the Kerstbierfestival is a gem in our eyes.
So enjoy our time at the Kerstbierfestival…
For all the episodes of One Pint at a Time go to beergeekTV.