As you know, the Monterey Peninsula has its fair share of art galleries; not that Chris and I are into that sort of thing. Or so we thought…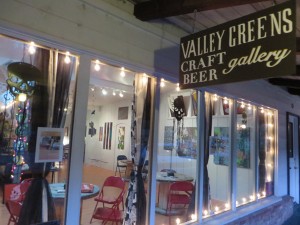 Several years ago, Valley Greens Gallery opened in Carmel Valley Village. Full of funky urban artwork, we mostly drove past it wondering what the heck it was and how it would ever survive in the Village, a place where every other storefront is a wine tasting room (and that's no exaggeration!). But when we heard that artists/owners Leah Fusco and Neil Kirkpatrick wanted to add beer and cider to their gallery offerings, we knew we had to do our part to help the gallery survive. Nothing like having a good beer spot walking distance from your home.
The addition of beer came out of Leah and Neil's love for the stuff (they own a bar in Birmingham, Alabama), as well as a desire to serve beer and cider at the art classes and private functions offered at the gallery. Add alcohol and even the self-proclaimed worst artist in the world begins to feel like Picasso or Van Gogh. Beer, art, and friends–what a wonderful way to pass a few hours!
Now you don't have to wait for an art class or hold your own private function. Beer, art, and friends can be enjoyed at any time the gallery is open. A mellow alternative to the bar a few doors down that has been a Village staple for decades, Valley Greens Gallery is like going to a friend's house for a few beers before heading home.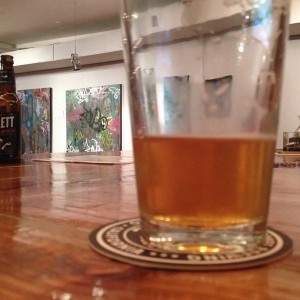 Seating 7 at the bar, it is very likely you will run into someone you went to school with. And by school, I mean elementary school. But whether or not you have known each other your whole lives, the bar becomes one big conversation about miscellaneous stuff–the artwork, beer, local events, and even a bit of good-natured Village gossip. Everyone is welcome and you never feel like that loner at the end of the bar drinking alone. Leah is almost always behind the bar with her broad smile, 3 taps, numerous bottles, and sometimes a few bar snacks. Valley Greens doesn't serve food, but bringing in your own is certainly allowed.
So, the next time you come out to Carmel Valley Village to enjoy the sunshine, be sure to stop by Valley Greens Gallery, located at 16A East Carmel Valley Rd. Hours are Tuesday-Sunday 11am-late evening. Be sure to tell Leah that Chris and Merideth sent you!