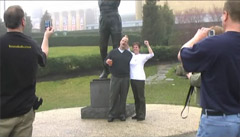 "Philly Beer Week" is the latest Year in Beer episode of One Pint at a Time.
'Latest' is somewhat misleading as we filmed this episode almost a year ago at the inaugural event.
We were thankful for the opportunity provided by the Greater Philadelphia Tourism Marketing Corporation to visit  "America's Best Beer Drinking City" in March 2008. With a group of other beer writers, we were ushered around the greater Philly area to beer bars, brewpubs and to the opening of Philly Beer Week.
So enjoy our adventures in Philadelphia…
For all the episodes of One Pint at a Time go to beergeekTV.