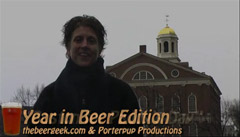 "Boston for Paddy's Day" is the latest Year in Beer episode of One Pint at a Time.
We traveled to Boston for the fifth time in the last six years to show you why Boston is the place to be on March 17th. The whole town has a festive spirit and the pints of Guinness seem endless.
We show you some of our favorite places to grab a beer in Beantown and also give you a few tips to surviving the 'holiday'.
For all the episodes of One Pint at a Time go to beergeekTV.