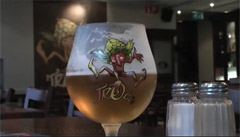 "Belgians, Trappists & Kerstbier" is the latest Year in Beer episode of One Pint at a Time.
With December being the last month for the Year in Beer, we wanted to make it a special one. And what can be more special than a beer tour of Belgium. We had two main goals for the trip: visit all seven Trappist breweries and reach 450 breweries. The Year in Beer culminated at the Kerstbierfestival, a Belgian Christmas beer festival in the town of Essen.
So enjoy our adventures in Belgium…
For all the episodes of One Pint at a Time go to beergeekTV.