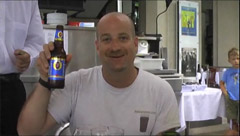 "Craft Beer Down Under: The Journey to Sydney" is the latest episode of One Pint at a Time.
Merideth turned 40 in December and she didn't really embrace the milestone. Instead of making our normal holiday pilgrimage to Europe, we decided a trip to Australia was what Merideth needed to cure the turning 40 blues. This trip marked our first beer adventure outside of North America or Europe.
In two weeks of beer travel, we journeyed from Sydney to Melbourne and then back.
So enjoy the second part of our beer adventure in Australia…
For all the episodes of One Pint at a Time go to beergeekTV.