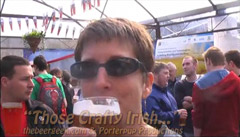 "Those Crafty Irish" is the latest episode of One Pint at a Time.
This was our ninth trip to the Emerald Isle and she continues to be one of our favorite countries to visit. Throughout our trip, we focused on Irish Craft Beer, including ending our trip by attending the Easter Beer Festival in Cork. Over the years, we have met and befriended a number of  people in the Irish craft beer community and this episode is really about their efforts to promote good beer in Ireland.
So enjoy our latest Irish adventures…
For all the episodes of One Pint at a Time go to beergeekTV.