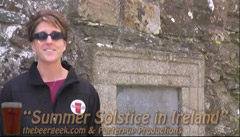 "Summer Solstice in Ireland" is the latest Year in Beer episode of One Pint at a Time.
This was our ninth trip to Ireland and our second during summer solstice. Summer solstice in Ireland is pretty special – not for any hippie, new age reasons – it's just really cool to stumble out of a pub at half ten and have it still be light out.
No matter how many times we travel to the Emerald Isle, we always meet interesting people and discover new things. It's different every time. Familiar and comfortable, yet fresh and exciting. That's what keeps us going back.