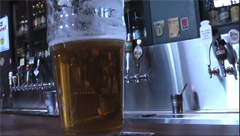 "Seattle Revisted" is the latest Year in Beer episode of One Pint at a Time.
We'll be the first to admit that we were skeptical of Seattle's lofty beer reputation. We'll also admit that it was mainly due to a lack of knowledge about the extent of their beer scene.
We knew we needed to blaze a non-tourist path to really experience Seattle's beer culture. That's why we enlisted the help of our friend, Chris Devlin, to show us a local's perspective.
For all the episodes of One Pint at a Time go to beergeekTV.