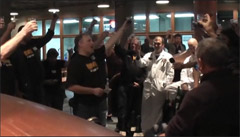 "2009 SF Beer Week" is the latest episode of One Pint at a Time.
SF Beer Week was a ten-day celebration of the Bay Area's brewing heritage, and a showcase for the breweries and beer culture of Northern California. From the North Bay to Monterey, beer fans gathered at all kinds of beer related events to celebrate "America's Original Craft Beer Drinking City". From the anchoring events like Strong Beer Month and Toronado Barleywine Festival to our beer tasting in Carmel Valley, crowds were large and enthusiastic.
So enjoy our adventures at SF Beer Week…
For all the episodes of One Pint at a Time go to beergeekTV.