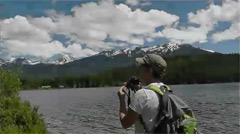 "British Columbia Eh" is the latest episode of One Pint at a Time.
Though we had visited British Columbia a number of times, we took the opportunity of a niece's wedding to explore the province's growing beer culture. During our trip, we traveled from Vancouver Island, up to Whistler, finishing in Vancouver. We experienced as much of the beer scene as possible in a quick week.
So enjoy our beer adventures north of the border…
For all the episodes of One Pint at a Time go to beergeekTV.