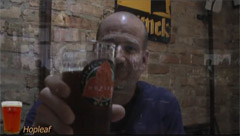 "A Whole World Beyond ORD" is the latest episode of One Pint at a Time.
We knew Chicago was a good beer town. We just hadn't made it there yet. Lucky for us, opportunity knocked when our friends and fellow beer travelers Matt and Michelle asked us to meet them in the Windy City for a long weekend.
Two and half days gave us just enough time to get a taste of the Greater Chicago beer scene. We visited a dozen breweries and three beer bars during our stay. Chicago has a lot to offer the beer traveler and we can't wait to return.
So enjoy our beer adventures in the Windy City…
For all the episodes of One Pint at a Time go to beergeekTV.