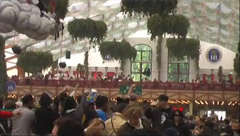 "Oktoberfest" is the latest Year in Beer episode of One Pint at a Time.
Just say the word Oktoberfest and images of lederhosen, dirndls, liters of beer, and crowded tents spring to mind.
The world's largest gathering, Oktoberfest is all that and much more… drunk, loud, boisterous and a bit challenging at times.
We spent opening weekend at Oktoberfest braving the crowds, drinking liters of beer and making new friends. Merideth got into the spirit and wore her dirndl, as well as braved the puke and death-defying carnival ride "Cyber Space".
So enjoy our weekend at Oktoberfest…
For all the episodes of One Pint at a Time go to beergeekTV.