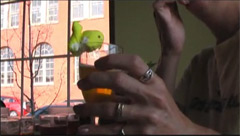 "Springtime in Portland" is the latest episode of One Pint at a Time.
Our tenth visit to Portland was our first not attending the Oregon Brewers Festival. Admittedly it was quite strange walking through the waterfront park and not seeing the familiar large white festival tents.
With no festival to attend, we were free of concentrate on our primary mission, adding breweries to the List. We visited outlying breweries that in previous years we had missed. And we enjoyed a wonderful urban beer hike on a glorious springtime Saturday.
So enjoy our tenth visit to the Rose City…
For all the episodes of One Pint at a Time go to beergeekTV.