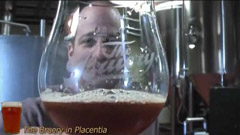 "SoCal Megalopolis Brew Tour" is the latest episode of One Pint at a Time.
As Northern Californians, we view any trip to the Southland with a certain amount of dread. But an emerging craft beer scene encouraged us to make the journey on Chris' s birthday weekend to see for ourselves.
The visit was an eye opening experience and we actually look forward to our next trip to the Southland.
So enjoy our beer adventures in Southern California…
For all the episodes of One Pint at a Time go to beergeekTV.