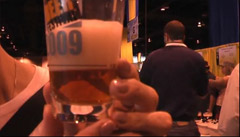 "One Ounce at a Time" is the latest episode of One Pint at a Time.
Despite our whining about the one ounce pours, the Great American Beer Festival member's session is now a highlight of our beer year. Beyond the vast beer choices, GABF is the one time of year where most of our beer friends from around the country gather in one place. Good beer, good friends… that's what it's all about.
So enjoy our latest Great American Beer Festival  adventure…
For all the episodes of One Pint at a Time go to beergeekTV.