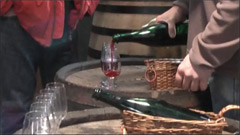 "Euro Christmas 2010 Part II" is the latest episode of One Pint at a Time.
Our whirlwind European tour covered six cities in six countries over two weeks. The non-stop itinerary included two favorites: London and Dublin, two new cities: Hamburg and Copenhagen, and two that we wanted to explore further: Amsterdam and Brussels.
In this last installment, we explore the beer scenes of Amsterdam and Brussels as well as attending one of our favorite beer events, the Kerstbierfestival. And we deal with the joys of having our flight home canceled.
So enjoy our latest beer adventures in Europe…
For all the episodes of One Pint at a Time go to beergeekTV.