The Latest: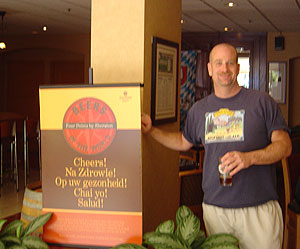 I did not get the position of Chief Beer Officer. The winner was Scott Kerkmans. Congratulations to Scott.
Despite not getting my dream job, the experience was a lot of fun and rewarding. The people I met at Four Points/Starwood were really nice and I only have the highest praise for them. Moreover, it was nice to receive some recognition for the little hobby that I have.
The Backstory:
Sometime back in November 2006, my brother-in-law, also named Chris, told me about Four Points search for a Chief Beer Officer. He thought I was the perfect candidate and really encouraged me to apply. However, I will be the first to admit, I was somewhat skeptical of my chances but I applied nonetheless.
Having pretty much forgotten about it, I was informed in late January that out of 7,800 entries from 31 countries, I was one of the final 15 candidates. Now the hard work began…
I had 2 days to create, film, edit and send a 5 minute video on why I thought I should be the Chief Beer Officer. Many, many thanks go out to Chris (the brother-in-law mentioned above) for helping with the filming of the video.
The Interview
We flew back to New York on March 6th for my interview the next day.
Before I talk about the interview, let me say something about the weather. The high temperature was 15-20 degrees (!) plus snow as well. Needless to say, I wasn't able to wear shorts.
The interview went very well in my estimation. I went to New York with two goals; to be myself and give it my best effort. I think I accomplished both and am very pleased. I should know the final decision in a couple of weeks.
The other highlights of the short trip were… White Plains has a Legal Sea Foods so we were able to enjoy our favorite lobster rolls and Boston cream pie.
Plus, down the street was a great multi-tap pub, Lazy Boy Saloon, that served some of the local brews.
After my interview, we had a few beers with one of the other final four, Brad Ruppert from Huntington Beach. Brad and I actually knew each other before this whole CBO thing came about. He had found my website and we had been exchanging e-mails, talking about our similar interests in beer travel and trying to figure when we could meet up for a pint.
My Chief Beer Officer Video
Press Coverage:
-From the Monterey County Herald: A brew drinker's dream job