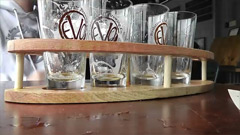 "Philly and Beyond" is the latest episode of One Pint at a Time.
One of our lost episodes, we visited the Greater Philadelphia area for a long weekend in the Spring of 2012. It was mainly a trip to visit our friend Andie at Victory Brewing, but we took the opportunity to explore beyond the Keystone State. By traveling just a few hours we experienced the beer scenes in Delaware and Maryland, as well.
So enjoy our beer adventures on the East Coast…
For all the episodes of One Pint at a Time go to beergeekTV.