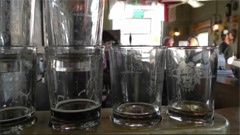 "Asheville" is the latest episode of One Pint at a Time.
We had visited North Carolina on two previous occasions, but beer travel was never the focus. With its growing beer scene, Asheville was the logical location for our first serious beer foray into the Tar Heel state. For our beer adventure in Western North Carolina, we were joined by our good friends and fellow beer travelers Matt and Michelle.
So enjoy our beer adventures in North Carolina…
For all the episodes of One Pint at a Time go to beergeekTV.