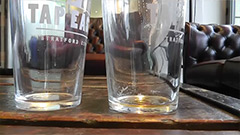 "800!" is the latest episode of One Pint at a Time.
Getting back to London to explore its fast growing beer scene was always something in the backs of our minds. With another brewery century-mark within reach, it seemed like the perfect time to return to British capital.
With a whole week in the city, Merideth and I had a long list of beer-related and tourist things on our agenda. But with London's exploding beer scene we hardly found time to play normal tourist. And we only made a dent in our beer list.
So enjoy our latest milestone beer adventure…
For all the episodes of One Pint at a Time go to beergeekTV.