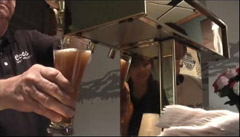 "Rolling to Boulder" is the latest episode of One Pint at a Time.
We were back in Denver to meet up with our friends and fellow beer travelers, Matt and Michelle, who we had not seen in almost a year. Over a long weekend, we drank beer in Denver, Golden and Boulder and attended the Beerdrinker of the Year contest. It is meeting up with good friends that makes beer travel all the more enjoyable.
So enjoy our adventures…
For all the episodes of One Pint at a Time go to beergeekTV.