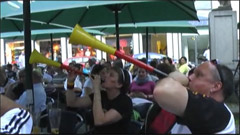 "Die Weltmeisterschaft in Deutschland" is the latest episode of One Pint at a Time.
For two years, we'd been dreaming of watching the world's greatest sporting event while in Germany. Arriving the last day of group play for both the United States and Germany, we stayed through the quarterfinal stage of the World Cup.
This trip will always hold a special place for us. Watching Germany demolish both England and Argentina, the intensity of the matches, and the joys of the celebrations were all absolutely remarkable. But what we'll remember most is that we spent these great beer travel moments with friends.
So enjoy our latest beer adventures in Germany…
For all the episodes of One Pint at a Time go to beergeekTV.