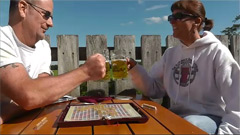 "Our Happy Place" is the latest episode of One Pint at a Time.
After a busy and stressful summer selling Teachings From The Tap, we badly needed a vacation. And we could think of no better place than our happy place: Germany. Starting in Franconia, we explored the countryside, as well as completed the Bamberg breweries. After a relaxing few days in Munich, we traveled south to the Bavarian Alps to drink beer, hike and go to the top of Germany.

So enjoy our latest beer adventures in Germany…
For all the episodes of One Pint at a Time go to beergeekTV.