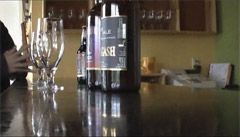 "500!" is the latest episode of One Pint at a Time.
Our trip to Maine in October was the last of three successive quickie beer trips. Focusing on Portland, Maine's largest city and brewing center, our goal was try a bunch of local beer, eat a lot of lobster and to reach the 500 brewery milestone. In our two day trip, we visited Maine's craft beer pioneers as well as some of the newcomers.
So enjoy our first adventure in Maine…
For all the episodes of One Pint at a Time go to beergeekTV.