Beer Travel is Seeing the World One Pint at a Time...
beer travel [ bir tra-vəl ] experiencing the diversity of beer throughout the world by drinking it at its source.

thebeergeek.com is a beer travel site that chronicles the beer adventures of husband and wife team Chris Nelson and Merideth Canham-Nelson. Launched in 2005, the website documents their travels throughout the world as they visit brewpubs, breweries, beer bars, halls and gardens. On their beer journeys, they meet the locals and learn about different cultures. Their beer travels have taken them throughout North America, Europe and Oceania.

thebeergeek.com aims not only to reach the dedicated craft beer drinker, but also the average person looking to add some adventure to their travels. From hardcore beer travels, like driving hours out of their way to visit a single brewery, to helpful advice for the brewery novice, thebeergeek.com tries to cater to all levels of interest.

The couple's beer travels are recounted in travelogues, a book, Teachings from the Tap and video episodes on beergeek.TV. There are currently over 50 episodes of One Pint at a Time.
What is beergeek.TV?
beergeekTV is a natural extension of their enjoyment of beer travel and desire to tell people about travel and good beer. Visit the beergeekTV page to watch them travel, explore and enjoy good beer.
Who is thebeergeek.com?
Merideth Canham-Nelson's appreciation of beer developed in 1992 while working at a multi-tap pub in Oakland, California. She wanted to be knowledgeable about the beer she was serving and the best way to do it was to visit the breweries themselves. Merideth has visited over 900 breweries in her beer travels. When she is not traveling, Merideth works as a Licensed Clinical Social Worker. Read more about Merideth>


When not traveling, Chris Nelson represents Drake's Brewing on the Central Coast, as well as raises the couple's dachshund Stout. In 2007, Chris, out of 7,800 applicants from 31 countries, was a final four candidate for Four Points by Sheraton's coveted position of Chief Beer Officer. A beer traveler for 20 years, Chris has visited over 900 breweries throughout the world. Read more about Chris>


Listen to us on KRML | Wednesday 5-6pm | 102.1FM/1410AM
Streaming worldwide at krml.com


Teachings from the Tap
Buy at beertrekkerpress.com
Buy/Review at Amazon.com
Buy/Review at Kindle Store
Latest One Pint at a Time Episode
"Canada Eh: the Atlantic Edition"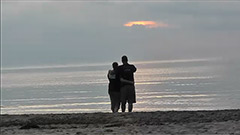 "Canada Eh: the Atlantic Edition" is the latest episode of One Pint at a Time.

Always looking for new beer adventures, we took the advantage of a trip to Maine to cross over into Maritime Canada to make a quick visit to Nova Scotia.

Over five days, we watched the tides on the Bay of Fundy, experienced Halifax via an Urban Beer Hike and fell in love with beauty and charms of Cape Breton. Most importantly, we discovered a thriving beer scene on Canada's east coast.

So enjoy our first Maritime Canada beer adventure…
---
Click here to watch our Australian Trilogy
Recent Beer Travel
New Hampshire, Maine & Massachusetts
View Images | Read Travelogues

Australia/New Zealand
View Images | Read Travelogues
Latest Beer Travelogues
Click on the title of the post to view:

>View our Complete Beer Travelogue
Brewery Count
Chris: 938 | Merideth: 938
Breweries New to the "The List"
Green Leaf Brewing
North Vancouver, BC Canada
Black Kettle Brewing
North Vancouver, BC Canada
Postmark Brewery
Vancouver, BC Canada
Powell St Brewery
Vancouver, BC Canada
Bomber Brewing
Vancouver, BC Canada
Strange Fellows
Vancouver, BC Canada
Brassneck Brewery
Vancouver, BC Canada
Main Street Brewery
Vancouver, BC Canada
33 Acres Brewing
Vancouver, BC Canada
Steel Toad Brewpub
Vancouver, BC Canada
Independent Brewing
Oakland, CA USA
Tioga-Sequioa Brewing
Fresno, CA USA
South Gate Brewing
Oakhurst, CA USA
Prospectors Brewing
Mariposa, CA USA
Strike Brewing
San Jose, CA USA
Cleophus Quealy
San Leandro, CA USA
Bang the Drum Brewery
San Luis Obispo, CA USA
Libertine Pub
Morro Bay, CA USA

>View our Complete Brewery List